Over 8,000 titles of books, brochures published in Belarus in 2020
06.05.2023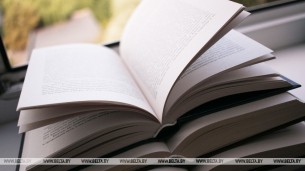 Subscription was the largest expenditure item of household budget expenses on books and newspapers in 2020, reads a statistical review released by the Belarusian Statistics Committee ahead of the Press Day marked in Belarus on 5 May, BelTA has learned.
In 2020, more than 8,000 titles of books and brochures were published in the country. By content they were dominated by educational books and brochures (33.2%), educational and methodological (19.7%), scientific and non-fiction (19.5%), belles-lettres (7.1%) and books for children and teenagers (6.5%).
A total of 925 titles of belles-lettres books were printed (circulation – 890,800 copies), of which 346 were books for children (circulation – 730,900 copies). Prose and poetry prevailed in terms of the genres of children's literature.
Last year, the Belarusian publishing sector issued 782 journals, other periodicals. In terms of content scientific journals topped the list (22.8%), popular magazines (18.7%) and analysis and research (18.7%). A total of 451 titles of newspapers were published.
The Belarusian publishing sector prints books and brochures in English, German, French, Chinese, Spanish, Latin, Italian, Polish and Church Slavonic every year. In 2020, there were books in Korean, Serbian and Turkmen. Russian, Belarusian and English are the most popular languages for books and brochures, magazines and other periodicals, newspapers issued in Belarus.
In 2020 most books and brochures were produced in Minsk (6,044), Gomel Oblast (741) and Vitebsk Oblast (430). Minsk was also the country's hub for magazines and other periodicals (668). Brest Oblast went second (28) and Vitebsk Oblast third (25). in terms of newspapers Minsk topped the list (169) and was followed by Brest Oblast (65) and Minsk Oblast (48).